Bali & Kuala Lumpur
from $1,289 per person
Included:

International airfare & taxes

Accommodation

Transfers

Checked baggage

In resort assistance & 24 hour contact center
Overview
A great twin center vacation, combining two really lovely boutique hotels, one on the tropical island of Bali and one in the capital of Malaysia Kuala Lumpur. Relax in your tropical retreat and then enjoy exploring a vibrant city.
We have selected The Pavilions hotel in Bali, a delightful hideaway near Sanur beach. And in Kuala Lumpur we have chosen the Villa Samadhi, a beautiful boutique resort, hidden from street view but still very close to the main attractions of the city. We can change the number of nights you stay in each hotel, or we can select another hotel for you, depending on your preferences.
Details
You can choose to either fly to Bali first or start in Kuala Lumpur, but we like the idea of relaxing in the Bali sunshine first, to give you energy to explore the city and indulge in some shopping.
Day 1
Fly to Bali and transfer to the small and friendly boutique hotel, The Pavilions - make your way down the Bamboo walkway to your secluded hotel for check in among the tropical gardens. This traditional Balinese hotel is just a short stroll from the stunning lagoon that is fringed on one side by a reef, and on the other by a long white sand beach and the bars, restaurants and shops of Sanur. Spend 7 nights in this tropical hideaway.
Day 7
Take the 3 hour flight from Denpasar airport in Bali to Kuala Lumpur. Then transfer to the Villa Samadhi. Asian-inspired and very indulgent, you'll love the design and ambiance of this hidden gem of a hotel. Spend 3 nights here, giving you time to explore the cosmopolitan sights of KL city and perhaps indulge in the world-class shopping on offer
Day 10
Fly home
Please note that Villa Samadhi is suitable for children aged 12 years upwards, should you wish to travel with younger children we can provide a more suited family hotel in Kuala Lumpur - please enquire with one of our specialists.
Nyepi Day

On the 25th March 2020 it is Nyepi Day, an important Hindu celebration marking the Balinese New Year. Meaning "Day of Silence" this is a day of reflection and any activity that may prevent that is prohibited. The day is marked with a public holiday and restrictions are imposed on any kind of noise, travel, entertainment or work. Although tourists are free to do as they wish within hotels, nobody is allowed to leave the hotel premises between the hours of 6am and 6am the following day. Hotels will remain operational but with limited staff and Bali airport will remain closed.

The weather information shown below refers to the first stop on the tour, call us and speak to one of our travel experts for the most up-to-date forecasts and weather details for your tour.
TODAY
83ºF
FRI
82ºF
SAT
83ºF
SUN
85ºF
MON
86ºF
Jan
Feb
Mar
Apr
May
Jun
Jul
Aug
Sep
Oct
Nov
Dec
Average Temperature (Fahrenheit) Average Rainfall (Inches)

7

7

6

2

1

1

1

0

1

1

2

5
Average Temperature (Fahrenheit) Average Rainfall (Inches)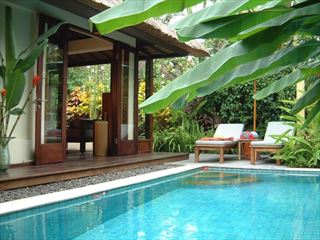 A delightful hideaway that is perfect for couples and honeymooners. Lying in a tranquil location, yet just a short stroll away from the shops and resturants of Sanur beach, this 25 villa luxury boutique style is the place to relax and unwind.
Kuala Lumpur's ultimate treat, a beautiful boutique resort in a stunning design. Discretely hidden from street view, this gem is in quiet location but still close to the main sights of the city.