Holidays in Dubai & The Emirates
Holidays in Dubai & The Emirates
Holidays in Dubai & The Emirates
Holidays in Dubai & The Emirates
Dubai vacations - Vibrant and luxurious
Dubai makes an instant impression and it's one which will last with you. A bustling hub of activity, breath-taking architecture, stunning beach resorts and a haven for nightlife, this extravagant destination is for those who fancy opulence. Dubai is famous around the world as being extremely extravagant, and when you arrive and see it for yourself you'll realise there just aren't the words to do it justice.
Why Tropical Sky?
Your money is safe
We safeguard your money with ARC protection and have membership to codes of best conduct.
Why Tropical Sky?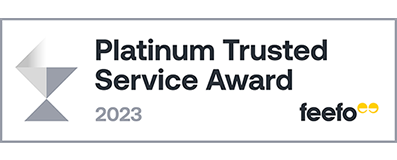 Award Winning Excellence in customer service
Awarded 2023 Feefo Platinum Trusted Service Award for Tropical Sky's excellence in customer service.
Why Tropical Sky?

We answer quickly
On average, calls are answered within three rings. We also respond to emails quickly.
Why Tropical Sky?

We offer expert advice and great service
Our luxury tailor-made vacations are created with impeccable service from start to finish.
The Arabian oasis with endless possibilities
This vibrant destination surrounds itself in superlatives: if it's not the tallest, largest, longest or the fastest then Dubai doesn't want to know. There are world-class shopping malls, opulent hotels, and gourmet restaurants, all on a truly grandiose scale. There's the beaches, picture perfect white sand and warm water, as well as a lavish nightlife featuring a host of extortionate nightclubs crammed with celebrity clientele.
Nestled in the Persian Gulf, Dubai is renowned for its extravagance and the sheer scale of its many attractions. This reputation, alongside gorgeous all-year round sunshine, has turned it into one of the world's most desirable holiday destinations. One of the seven emirates that make up the United Arab Emirates (UAE), Dubai is the largest in terms of population and the second largest in terms of physical size behind only Abu Dhabi.
It is grandiose on a colossal scale, and features the world's tallest building – the stunning Burj Khalifa, and the world's largest shopping mall – the Dubai Mall. On that note, Dubai is a real shopper's paradise with malls, markets, boutiques and souks offering everything from designer clothes and brand-name electronics to cheap jewellery and unique trinkets.
Venture away from the grandeur of Dubai and you'll find two of the Emirates' hidden gems, Fujairah and Ras Al Khaimah. Fujairah, nestled along the east-coast, has a more relaxed ambience, with beautiful rocky coastlines and azure shallows ideal for snorkelling amongst reef sharks and turtles. Ras Al Khaimah, meanwhile, is known for its incredible blend of expansive desert and soaring mountains, all mostly untouched and home to astonishing, panoramic vistas. These areas are far less travelled by tourists, and therefore offer a more secluded and unique holiday in the Emirates.
Why visit Dubai?
Dubai offers a chance to truly shop till you drop, with an array of designer stores and smaller boutiques. It's all tax-free too
Adrenaline junkies have plenty to excite them, including dune bashing and motorised water sports
Dubai is so easy to get to, it's a great option for families and for a hassle-free break to somewhere hot and beachy
The food is divine, and many of the hotels we feature have a wide range of fabulous restaurants serving innovative dishes from around the globe
Combining city, beach and desert, you'll never get bored with the mix of scenes here
Inspired? Tropical Sky also arranges Middle East Holidays to Dubai, Abu Dhabi, Oman and Qatar.
During Ramadan (approximately 10 March-9 April 2024 and 28 February–30 March 2025), Eid Al Adha (approximately 16 June-20 June 2024 and 6 June-10 June 2025) and Eid Al Fitr (approximately 9 April-10 April 2024 and 31 March-1 April 2025), there may be some restrictions on drinking and dining. However, you'll still have plenty of dining options - speak to your travel consultant for more information.
Important notice
A 'Tourism Dirham' (also known as Bed Tax) has been imposed across the United Arab Emirates and must be paid directly to the hotel by any guest staying in any accommodation type throughout Dubai and the Emirates. The charges are as follows and are compulsory, payable per night per room.
5 star accommodation AED20 per night per room.
4 star accommodation AED15 per night per room.
3 star accommodation AED 10 per night per room.
Example: 5 nights for 2 people staying in a 5 star resort the charge will be AED100 payable locally.
Dubai and the Emirates
Quick facts
Ramadan 2024: 10th March - 9th April
Dubai and the Emirates
Quick facts
Eid Al Adha 2024: 16th June - 20th June
Dubai and the Emirates
Quick facts
Ramadan 2025: 28th February - 30 March
Dubai and the Emirates
Quick facts
Eid Al Adha 2025: 6th June - 10th June
Dubai and the Emirates
Quick facts
Time difference: GMT +4 hrs
Dubai and the Emirates
Quick facts
Currency: United Arab Emirates Dirham
Dubai and the Emirates
Quick facts
Dialling code: 00 971 4
Dubai and the Emirates
Quick facts
Language: Arabic
Inspired travel with our expertise
Find your perfect vacation
Talk to our friendly team
1-800-311-6002
Call us 9am-7pm Mon-Fri / 9am-5pm Sat-Sun