Top 10 spa hotels in the world
There is little more indulgent than holing up in a luxury hotel with a sublime spa for all your pampering needs. Tropical Sky uncover the world's most blissful retreats - the top 10 spa hotels, designed to relax, revitalise and rejuvenate.
10. The Spa at Four Seasons Hotel George V, Paris
The scene: One of the largest spas in Paris, this glamorous beauty retreat is decked out with marble pillars, crystal chandeliers, classical statues, exquisite floral arrangements and a cream and gold color palette. Everything about this 9,150 square foot spa is opulent and includes 11 treatment rooms, steam baths, whirlpools, saunas and an exquisite indoor pool surrounded by Renaissance-style chairs.
Signature treatments: The two-and-a-half-hour 'A Stroll to Versailles' is an epic pampering package inspired by the beauty secrets of Marie Antoinette. This spectacular treatment incorporates orange blossom, apparently her favourite scent, which is used in a body scrub and facial to leave skin zinging. The ritual continues with a relaxing to-to-toe massage with warm shea butter and a soothing facial.
9. The Nira Spa at Shanti Maurice, Mauritius
The scene: As one of the most spacious in the Indian Ocean, this spellbinding 75,000 square-foot spa is built around an enchanting tea pavilion, surrounded by flower gardens and lily ponds. Taking the holistic approach to a whole new level, guests are soothed into a Zen-like state of tranquillity with a huge assortment of Western and Eastern therapies and beauty regimes. There are 25 treatment rooms and a serene swimming pool within the spa grounds.
Signature treatments: Using the ancient science of Ayurveda to treat the body, mind and soul, treatments are designed to promote serenity and inner peace. The newest signature treatment is 'Sega Ritual', which is performed on the beach and aims to rejuvenate the skin through exfoliation with organic sugar syrup and massage.
More information and to book: The boutique, lifestyle resort Shanti Maurice, with an award- winning spa, is located around a pristine horseshoe coral sand cove on the largely untouched south coast of Mauritius.
8. Clarins Spa at Dinarobin Hotel Golf & Spa Resort, Mauritius
The scene: Beauty aficionados can indulge in a wealth of feel-good treatments at this temple-like oasis, housed in a stone building at the foot of the Le Morne Brabant Mountain. There is a four-cabin area dedicated to Ayurvedic treatments complete with 'dharapaathis', tailor-made tables hewn from single pieces of wood imported from India. Highlights include balneotherapy rooms, hydro-massage rooms, steam baths, hammams and a sleek slate-lined pool with Jacuzzi jets.
Signature treatments: As the first spa in the Indian Ocean to be affiliated with the prestigious Clarins brand, the pampering menu is extensive. Signature toxin-boosters include Japanese Tatami, Shiatsu and the signature Dinarobin massage.
More information and to book: Elegant and majestic, the Dinarobin resort is a breath-taking property in one of the most beautiful locations on the southern coast of Mauritius.
7. Spa at Le Blanc Spa Resort, Mexico
The scene: Set in bamboo gardens, this water-focused spa offers a range of Asian and European therapies. The décor is sublime throughout; from the gleaming all-white lobby and 19 lavishly-furnished indoor and outdoor treatment rooms to the sensory enhancement relaxation lounge. The star attraction is the 74 square-metre Golden Spa Suite, a 'spa within a spa' complete with sauna, steam room, double Jacuzzi and 'Just for Two' treatment tables.
Signature treatments: Experience the restorative powers of the 'Le Blanc Water Journey' in the hydrotherapy area and restore your sense of inner balance with shiatsu and Thai massage. For ultimate pampering, the 50-minute 'Steam-Vichy Rain Journey' includes full body exfoliation and refreshing massaging shower.
6. Spa by Clarins at Sainte Anne Resort & Spa, Seychelles
The scene: This spacious sanctuary nestled amongst beautiful manicured gardens is accessed through a traditional Japanese-style entrance. Divided into three areas – beauty, massage and a beautiful slate swimming pool with loungers — facilities include eight massage cabins, dedicated yoga room, balneotherapy room, hammams, saunas and a serenity garden.
Signature treatments: This tropical oasis has teamed up with Clarins to offer a full program of high-end skin-nourishing treatments using their botanical-based products. Other temptations include, Ayurvedic specialties, Oriental massages and the Sainte Anne Dream Time, which includes one hour of reflexology followed by Swedish and Shiatsu massage techniques using Clarins oils.
More information and to book: With a range of restaurants, a lavish spa and an eclectic mix of activities from snorkeling alongside sea turtles to beach volleyball, Sainte Anne is a perfect choice whether you're a couple looking for an intimate honeymoon or a family who want a great vacation together.
5. Living Spa at Strawberry Hill, Jamaica
The scene: Perched 3,100 feet above sea level, this Blue Mountains spa works exclusively with Aveda, famed for its high performance, botanically based products infused with pure plant and flower extracts. The spa offers five treatment rooms including a hydrotherapy room, plunge pool, sauna, dedicated yoga deck and other outdoor activities.
Signature treatments: Spa lovers are taken on a 'journey into a sense of well-being' with a series of exotic-sounding beauty blockbusters such as 'Lemon Grass Wrap', a detoxifying hydrotherapy treatment, and 'Blue Mountain Elixir', which combines exfoliation and massage. 'Elemental Facial' is Aveda's signature treatment and claims to restore balance to the skin.
4. LE SPA at La Mamounia, Marrakech
The scene: This newly extended 27,000 square foot underground complex in Marrakech's most iconic hotel appeals with Arabian Nights-style décor, marble fountains and traditional Moroccan tiles. Guests can luxuriate in candlelit chambers and savour a feast of detoxifying therapies inspired by a blend of Moroccan and Eastern cultures. On the ground floor there is a Jacuzzi and a large indoor pool.
Signature treatments: This award-winning subterranean spa offers over 80 treatments using two brands; Maroc and Shiseido. The most indulgent treatment is 'The Royal Hammam' which includes a visit to the steam room, an intense scrub with black soap made from pressed olives and salt and a soothing mud body mask followed by a deep-moisturising massage.
3. The Spa, Conrad Koh Samui, Thailand
The scene: Set over two floors, each VIP suite in this salubrious spa allures with earth-tone colors, soft mood lighting, over-sized tubs and a private panoramic deck overlooking the sherbet-white sands. Incorporating both single and couple treatment rooms, guests can luxuriate in rain showers, saunas and Thai massage rooms. For regal pampering, the Royal Treatment Suite has two treatment beds, a Jacuzzi and a private 10-metre plunge pool.
Signature treatments: A plethora of treatments awaits; from Reiki and Thai massage to rehydrating facials, body wraps and scalp treatments. The signature treatment is the three-hour 'Eden for Couples' in the Royal Treatment Suite where each partner enjoys a gender-specific massage and facial before sharing a Candlelit Frangipani Bathology with aromatherapy oils and plant extracts.
More information and to book: Conrad Koh Samui is all about experiencing southern Thailand in style and if you're looking for white sands, infinity pools and gourmet dining, you definitely won't be disappointed.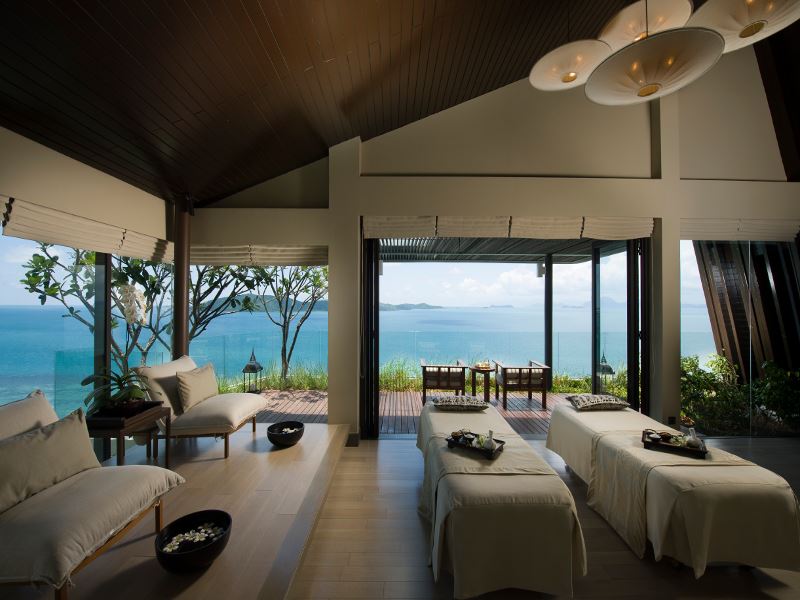 2. Talise Ottoman Spa at Jumeirah Zabeel Saray, Dubai
The scene: Set on the west crescent of the iconic Palm Jumeirah, this palatial spa dazzles with ornate mosaics, crafted marble, elaborate and hand-painted murals and a fabulous Turkish hammam at its heart. Spread over two floors and including separate areas for women and men, treatments combine the ancient healing philosophies of the Ottomans with state-of-the-art techniques. Facilities include a Thalasotherapy pool, adventure showers, snow room, floating baths and 42 treatment rooms.
Signature treatments: For luxurious pampering, book one of the Talise Rituals; 'Enriched' is a two-hour ceremony of sensuality which leaves dry skin satin smooth, whilst the four-hour 'Signature' is a wondrous bespoke spa marathon packed with lots of customised treatments.
More information and to book: Designed in the style of a luxuriant Ottoman Palace, Zabeel Saray offers the resplendence and high levels of service that Dubai is famous for.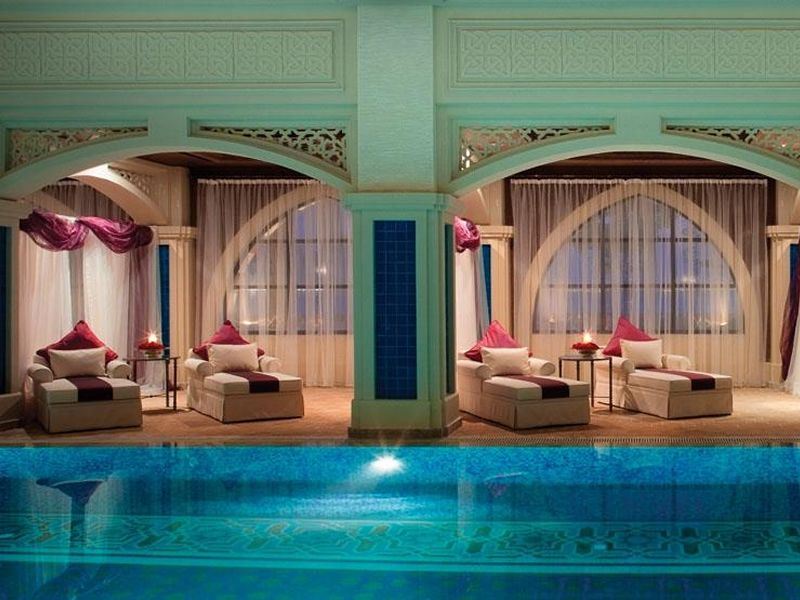 1. The Wellness center at The Bodyvacation, St Lucia
The scene: Having recently undergone an extensive multi-million pound renovation, this 30,000 square-foot pampering palace lures guests with 'give us your body for a week and we'll give you back your mind'. Recently ranked 'Best Destination Spa in the World' and 'Best Spa Worldwide' by Conde Nast traveler, this expansive haven is housed in a Moorish-style building with a pool at its center. Stand-out facilities include an Ayurvedic center, 36 treatment rooms and a temple for outdoor massage.
Signature treatments: Fill your days with Zen-like indulgences and holistic activities including pilates, yoga and meditation. Most temping is the much-celebrated 'Lucian Lime and Ginger Scrub', an invigorating exfoliation ritual using sea salt, St. Lucian coconut oil, organic ginger and lime.
More information and to book: You can look forward to true rest and relaxation as you spend your time at the award-winning Wellness center at The Bodyvacation and the glowing white sand beach – undoubtedly one of the island's finest.
Find your perfect vacation
Talk to our friendly team
1-800-311-6002
Call us 9am-7pm Mon-Fri / 9am-5pm Sat-Sun